Level 3 — Mould Remediation
What can you expect from this Course?
This course aims to provide a more extensive and final look at Mould remediation following on from levels 1 and 2.
Course Duration:
Approximately 4.5 Hours
Continuing Education Credit:
This course is approved for IICRC Continuing Education Credit (CEC) : 5 Hours
Once completed please email support@carsi.com.au for your Certificate of completion confirming your hours of Continuing Education Credits.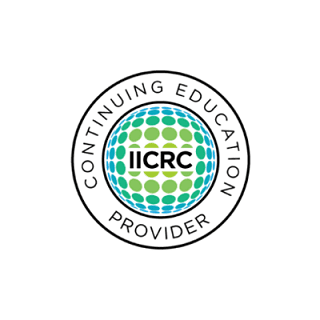 The IICRC does not endorse any educational provider, product, offering,
or service. The Institute expressly disclaims responsibility,
endorsement or warranty for third-party publications,
products, certifications, or instruction.
The approved status does not award IICRC Certification,
only qualified continuing education hours.
Level 3 — Mould Remediation
Already Purchased This Course?
Top­ics cov­ered include:
Intro­duc­tion to Mould

Lev­el 3 Prepa­ra­tion

The Frame­work of Health and Safe­ty Reg­u­la­tions

Haz­ards and Risks

Risk Assess­ment

Lev­el 3 Mould Per­son­al Pro­tec­tive Equip­ment

Heat Exhaus­tion and Heat Stroke

Lev­el 3 Chem­i­cals

Stor­ing Chem­i­cals

Lev­el 3 Labelling

Bac­te­ria and Modes of Trans­mis­sion

Waste Types

Safe­ty Data Sheets

Lev­el 3 Mois­ture Meters

Rel­a­tive Humid­i­ty

Build­ing Mate­ri­als

Fac­tors to con­sid­er for Mois­ture Meters

Lev­el 3 Ini­tial Inspec­tion

Lev­el 3 Con­tain­ment

Full Scale Con­tain­ment

Job Safe­ty and Envi­ron­men­tal Analy­sis

Safe Work Method State­ments

Oth­er Doc­u­men­ta­tion

Plant and Machin­ery

Stan­dard Oper­at­ing Pro­ce­dures

Emer­gency Sit­u­a­tions

Emer­gency Doc­u­men­ta­tion

Under­stand­ing Antimi­cro­bials

Com­plet­ing Mould Reme­di­a­tion

Con­tent Reme­di­a­tion

Final­is­ing Mould Reme­di­a­tion

Lev­el 3 Waste

Lev­el 3 Trans­fer­ring Waste

Haz­ardous Waste

Dis­pos­ing Chem­i­cals and E Waste

Clean­ing Equip­ment and PPE