Level 1 Mould Remediation
What can you expect from this Course?
This course aims to provide participants with the foundation knowledge and skills required to understand the hazard of Mould and the impact it can cause to health. Understand the different types of Mould and environments in which it grows, and how to protect yourself with the use of personal protective equipment. You will be provided with the basic principles for cleaning and remediation to be able to combat Mould and its source.
Course Duration:
Approximately 1.5 Hours
Continuing Education Credit:
This course is approved for IICRC Continuing Education Credit (CEC) : 2 Hours
Once completed please email support@carsi.com.au for your Certificate of completion confirming your hours of Continuing Education Credits.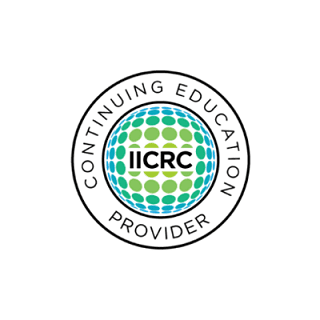 The IICRC does not endorse any educational provider, product, offering,
or service. The Institute expressly disclaims responsibility,
endorsement or warranty for third-party publications,
products, certifications, or instruction.
The approved status does not award IICRC Certification,
only qualified continuing education hours.
Level 1 Mould Remediation
Already Purchased This Course?
Top­ics cov­ered include:
Intro­duc­tion to Mould

Prepa­ra­tion for Mould Reme­di­a­tion

Safe­ty Data Sheets

Ini­tial Inspec­tion

Mould Reme­di­a­tion

Waste and Dis­pos­al

Upgrade to Lev­el 2

Lev­el 1 Mould Reme­di­a­tion Cer­tifi­cate Quiz