Infectious Control for the Business Owner
What can you expect from this Course?
Cleaners are essential workers and require increased training and knowledge in health cleaning. However, before you endeavor down the infectious control cleaning path, you need to ensure you and your business are prepared.
Study any time, anywhere, any pace, with Australia's only CFO (Certified Forensic Operator) and CBFRS (Certified Bio-Forensic Restoration Specialist) Phillip McGurk, this course has been developed to educate cleaning companies of their requirements before they say yes to infectious control cleans.
The course follows strict local, national, and international legislation developed for the real-world cleaner.
Course Duration:
Approximately 6.5 Hours
Continuing Education Credit:
This course is approved for IICRC Continuing Education Credit (CEC) : 7 Hours
Once completed please email support@carsi.com.au for your Certificate of completion confirming your hours of Continuing Education Credits.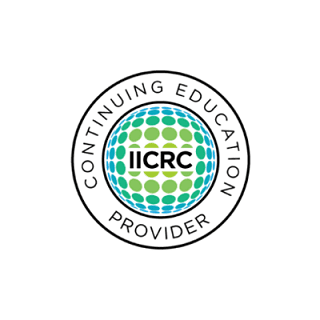 The IICRC does not endorse any educational provider, product, offering,
or service. The Institute expressly disclaims responsibility,
endorsement or warranty for third-party publications,
products, certifications, or instruction.
The approved status does not award IICRC Certification,
only qualified continuing education hours.
Infectious Control for the Business Owner
Already Purchased This Course?
Top­ics cov­ered include:
Virus Facts

Bac­te­ria and Modes of Trans­mis­sion

Clean­ing and Dis­in­fect­ing for Health

Hygiene Prac­tices

Under­stand­ing Risks

Clean­ing Types and Touch Points

Cross Con­t­a­m­i­na­tion

Insur­ance and Lia­bil­i­ty

Before the Job

Haz­ard Iden­ti­fi­ca­tion

Risk Assess­ments

Hier­ar­chy of Con­trols

Safe­ty Data Sheets

Labelling

Stan­dard Oper­at­ing Pro­ce­dures

Job Safe­ty and Envi­ron­men­tal Analy­sis (JSEA)

Safe Work Method State­ments (SWMS)

ATP Ter­mi­nol­o­gy

Hygiene Mon­i­tor­ing

ATP and Pro­to­cols

Test­ing Pro­to­cols

Exam­ples

Han­dling and Stor­age

Chem­i­cals

Haz­ardous Chem­i­cals

Tools

Appli­ca­tion

Microfiber Cloths

Per­son­al Pro­tec­tive Equip­ment PPE

Don­ning and Doff­ing PPE

Heat Exhaus­tion and Heat Stroke

Dis­pos­al

Quiz